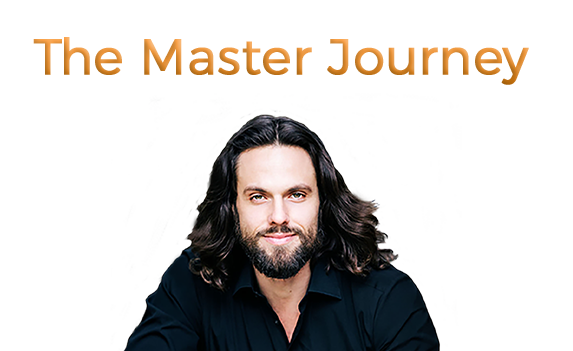 The Master Intensive with Matthew
Dear one,

I am inviting you into a new form of transformation. It is created for this short and special window of time, through the guidance and care of Divine Mother.

Over the course of a one-week personal retreat, you will go deep within yourself to attain new levels of clarity, healing and awakening. Each day, we will connect for one-on-one immersive sessions, building the energy throughout the seven days.

This is truly a spiritual Intensive! I'm so excited.

There are two traditional ways that we grow in consciousness:
Through diligent, disciplined daily effort. This takes the form of meditation and other practices.
Through intensive seasonal or annual immersion, seeking the highest states of spiritual communion, devoting all of our conscious resources over a period of days. This takes the form of extended ceremony, pilgrimage, and deep retreat.
Ancient societies understood the mechanisms of growth which support supreme awakening: a time taken each year to engage the most powerful technologies of consciousness with the most rigorous levels of focus. This is our intention with the Master Intensive.
During this one-on-one work together, you are in a direct ceremony with Divine Mother and the Masters. You commit your full resources to breakthrough, with the support required. I am honored to be a part of that support.
— Matthew
About
The purpose of the Master Intensive is to provide an environment to restructure and rebirth your life into a higher spiritual and cosmic vision. We do this by utilizing the laws of nature that can be uniquely engaged in a one-on-one, one-week retreat.
This Master Intensive is only being offered to a select number of Master Journeyers. It is by invitation only.
Divine Mother has been preparing Matthew to offer these Intensives for a few years. The Master Journey has helped to birth this Master Intensive.
You will leave all distractions and obligations aside for one week, and Matthew will be present with you in supporting your inward journey of healing and awakening.
Ancient traditions call for a ceremony of personal purification and transformation to be done once or twice per year, the fruit of which is then integrated throughout the year. The Intensive is designed to be this ceremony: where inner direction is calibrated, where a vision is embodied, and where a course of action is set.
The Master Intensive is very different than a group retreat. It is for those who are ready to dive into their own consciousness in a self-referral way, while still receiving loving support, insight, healing, and understanding.
Prerequisites
You must be a participant in the Master Journey. This Intensive requires that the year-long container of the Master Journey is a part of the integration experience.
It is necessary to receive a personal invitation to the Intensive. Only a select number of individuals are receiving an invitation to do this Master Intensive with Matthew. Divine Mother is guiding who this opportunity is timely for.
You must be committed to being completely offline for the week (except for emergencies).
You must make your own heartfelt, deep commitment to participate fully in the Intensive — to leave all distractions aside, and to align fully with the intention of self-love and self-transformation.
Format
The Master Intensive involves preparation beforehand, the Intensive week itself, and integration afterwards. Additionally, it will be interwoven with your Master Journey.
Preparation
In the weeks preceding your week-long Intensive, Matthew will do a one- to two-hour session with you. The purpose will be to orientate you to the Intensive, establish intentions, answer questions, cover logistics, and begin the energy work together.
The 7-Day Intensive
The Intensive lasts for seven full days.
Each day, Matthew will work with you for one-two hours.
Expect the entire day to be intentional, and involve exercises, meditation, rest, walking, potential selective reading, sessions, journaling, and special instructions.
You should aim to have a simple diet, and abstain from absolutely all non-critical digital technology. Unplug.
Matthew will help you structure the ideal routine and flow during your Intensive to facilitate depth of experience, breakthrough, bliss, and comfort.
Integration
After the week-long part of your Intensive, you will connect with Matthew at least twice, via Zoom. These one- to two-hour sessions will be scheduled at mutually convenient times.
You will be asked to be disciplined and attentive to your spiritual routine in the weeks following the Intensive.
The Master Journey
As you continue to integrate further beyond the Intensive itself, Matthew will work with you to bring what has been awakened through the Intensive into your Master Journey experience.
The Intensive and the Journey are designed to work together.
Logistics
Please do not plan to travel on any retreat day. The latest you should arrive is the day before the retreat begins. And the soonest you should plan to leave is the day after the last day of the retreat.
Matthew will have lodging suggestions for both Taos Ski Valley and Sedona. Both short-term house rentals and hotels should be suitable.
Matthew must approve the place you plan to book, in order to ensure that it will be a supportive environment for intensive work.
There will be someone available to run errands for you most days, including picking up groceries and any supplies you need. You are welcome to make meals for yourself if your rental has a kitchen.
If you do your Intensive in Sedona, Matthew will come to where you are staying for your daily work together. If you do your intensive in Taos Ski Valley, you will meet Matthew each day in his private office.
During the Master Intensive weeks, Matthew will hold space for up to two individuals. Even if he is working with another person during your week, you should not expect to interact with that person in any way. Your Intensive will be a fully self-referral experience.
If you and your spouse would like to do the intensive during the same week, this is a possibility. However, Matthew requests that you have completely separate sleeping, resting, and integrating quarters (although a shared kitchen is fine). He requests that you keep all communication during that week to an absolute minimum, and do not discuss experiences until after your week concludes.
Available Dates
There are two options to choose from:
August 31 – September 6, 2023 in Taos Ski Valley, NM
November 9 – 15, 2023 in Sedona, AZ
A Message From Divine Mother
This is what you have been waiting for. This is what we have been building toward. To dive into the most tender structures of your heart and physiology, where the wisdom of your cosmic consciousness awaits you.

This will be a unique experience for you, tailored to enliven, reveal and heal.

Your mind will become clear, connected, luminous, and spontaneously more aware of its own divine nature.

What will happen when you sit in this focused field of change for a week? What miracles are possible? This is the question we will answer together.

Consider this to be like a pilgrimage: a journey deep into the inner worlds, while anchored in this one.
A Message From Matthew
Cost
The cost for working with Matthew in the Master Intensive is $15,000. Full payment is due within 5 days of registration (by bank wire). Your spot is confirmed once your payment is received. No scholarships or discounts are offered.
Travel, food, and lodging costs for in-person retreats are on your own.
Additionally, in order to qualify for the Master Intensive, you must make, or have made within the last twelve months, a tax-deductible donation of at least $7,000 to The Wholeness 501(c)3.
Cancellation/refund policy: All payments are nonrefundable. If for any reason you don't complete the Intensive, or are unable to participate in some aspect of the Intensive, you are still responsible for the full fee of $15,000. There will be no exceptions. If for any reason you are unable to travel for your scheduled in-person Intensive, Matthew will do his best (not guaranteed) to reschedule your Intensive at a mutually-workable later date.
The combined cost of the Master Journey and the Master Intensive is priced to be commensurate with Matthew's previous offerings.
To apply for the Master Intensive, please click here.